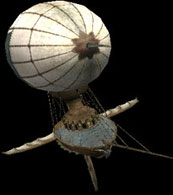 =Description=
The Battaloon is a large blimp-like aerial attack unit developed by Ecclesia. Like its partner, the Bone Dragon, it has requirements to be met when trying to utilize it, but it is unable to be selected, so there is no real point in trying to get this. the Battaloon can only be controlled on Kendal's final mission, when they are traversing into Encablossa to try to bring back the age of Light.
In-Game Description
Edit
Battaloons are flying battleships with unrivaled power. They can attack both ground and aerial units.
Ad blocker interference detected!
Wikia is a free-to-use site that makes money from advertising. We have a modified experience for viewers using ad blockers

Wikia is not accessible if you've made further modifications. Remove the custom ad blocker rule(s) and the page will load as expected.